Manage User Settings
In the User Settings page you can manage the system's global user settings.
In the Admin Level Control Panel, click on Users & Permissions > User settings: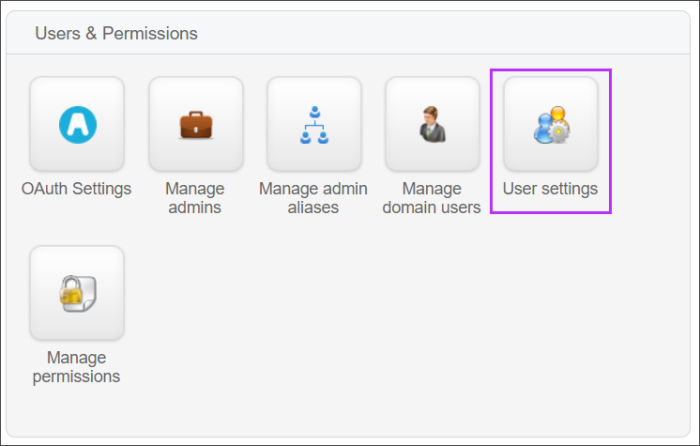 User Class Settings
Enable Two Step Authentication to provide an additional layer of security and help prevent unauthorized access.
Choose whether the Admin, Domain and Email level users under your account require Two-Step Authentication to log directly into the Control Panel.
After making the selection click on Save to apply.
This Two Step Authentication option only applies to users logging directly into the Control Panel. It is not applied where they use Single Sign-On.
Password Policies
Configure your password policies for Users & Permissions. The following settings will be enforced when passwords for new users are first set or when users' passwords are updated:
Minimum number of characters
Minimum number of digits
Minimum number of lowercase characters
Minimum number of uppercase characters
Minimum number of punctuation characters
Allow spaces: Yes/No
Allow common passwords: Yes/No
Allow dictionary words: Yes/No
Click on Save to save your changes.