Legacy - Getting started with Cloud Management Console
Installation
Hardware requirements
The hardware requirements are very basic:
Processor: Intel Pentium dual-core or better
Memory (RAM): 128 MB
Hard disk space: 80 MB (Windows), 110 MB (macOS)
A working Internet connection
Software requirements
You can install the Cloud Management Console on the following operating systems:
Windows - all versions starting from Windows XP and Windows Server 2003.
macOS - all versions starting from 10.6 Snow Leopard (64-bit).
Installation instructions
On Windows, download the Cloud Management Console and follow the installation wizard.
On macOS, do the following:
Download the Cloud Management Console.
Open the "Downloads" folder in the Finder.
Drag CloudManagementConsole to "Applications".
The installation is complete. Double-click on the application icon (M) to start the software.
User authorization
When you start the Cloud Management Console for the first time, you must log in to your account.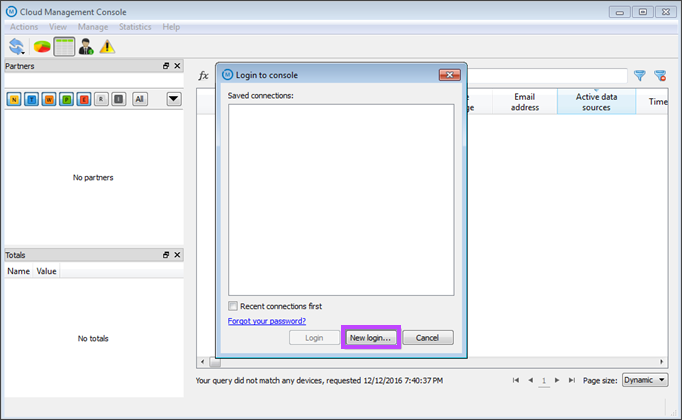 Click New login and enter your access details:
Partner – the name of the company you are trying to log in under.
Email – the email address your user account is registered on.
Password – the password for your user account.
Then click Save and Connect.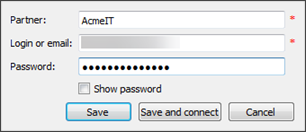 Managing existing connections
To manage existing connections, choose Actions > Connect from the menu bar at the top.

To connect as another user, click New login.
To update your account credentials or to remove a connection from the list, click on its name and choose an appropriate option.