User Actions Log
Cove Data Protection (Cove)'s User Actions log displays one month worth of data detailing actions taken by users on the Management Console. The feature can be found by navigating to Management > User Actions when logged in as a Super-User or Admin user only.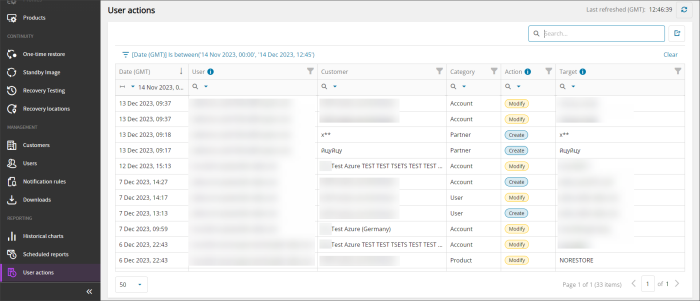 The User Actions page does not show system actions
Searching and Filtering
Searching
From the User Action page, you can search by the Date, User, Customer, Category, Action, Target or Details columns specifically to find actions from the full list that meet your required criteria.
The filter is set to the previous 30 days by default, and so this time frame is already filled in to this cell.
The top row of the Actions list is the search bar, click into the cell with the magnifying glass icon to search the data in that column

Enter the search term: the list of actions will update automatically to display results
Searches can be layered, e.g. User contains 'admin@domain.invalid' and action is 'Modify'
Any search you place will be displayed above the Actions list as a filter:

Filter
From the User Actions page, it is possible to create custom filters using the Filter Builder to find specific actions from the list.
The filter is set to the previous 30 days by default, to create a custom filter, click the date filter above the Actions list to open the Filter Builder

In the Filter Builder window, create the filter using the following selections:

And

Date (GMT) to which the following may be applied:

Is Between - use the date and time selectors to select the start and end date and time

User to which the following may be applied:

Contains - Text box to enter the filter text
Equals - Text box to enter the filter text
Is any of - Select from the list of values
Does not equal - Text box to enter the filter text

Customer

to which the following may be applied:

Contains - Text box to enter the filter text
Equals - Text box to enter the filter text
Is any of - Select from the list of values
Does not equal - Text box to enter the filter text

Category to which the following may be applied:

Contains - Text box to enter the filter text
Equals - Text box to enter the filter text
Is any of - Select from the list of values
Does not equal - Text box to enter the filter text

Action to which the following may be applied:

Contains - Text box to enter the filter text
Equals - Text box to enter the filter text
Is any of - Select from the list of values
Does not equal - Text box to enter the filter text

Target to which the following may be applied:

Contains - Text box to enter the filter text
Equals - Text box to enter the filter text
Is any of - Select from the list of values
Does not equal - Text box to enter the filter text

Details to which the following may be applied:

Contains - Text box to enter the filter text

Searches can be layered, e.g. User contains 'admin@domain.invalid' and action is 'Modify' and Target contains 'All Devices'. Once the filter is created, this will appear above the updated list similar to:
[Date (GMT)] Is between('14 Mar 2023, 00:00', '14 Apr 2023, 11:44') And [User] Contains 'admin@domain.invalid' And [Action] Equals 'Modify' And [Target] Contains 'All Devices'

Use the + icon to add more layers to the filter
Click OK
Edit Filters
Filters can be edited by clicking the filter string at the top of the User Actions page:

Clear Filters
Filters can be cleared by clicking the Clear button at the top of the User Actions page, next to the filter string: