End User License Agreement (EULA)
When you create a customer at Distributor, Sub-distributor or Reseller levels, they must accept our End User License Agreement (EULA) in order to proceed with using our software.
Once a customer has been created and they log in for the first time, they will be given the Software Services Agreement to read.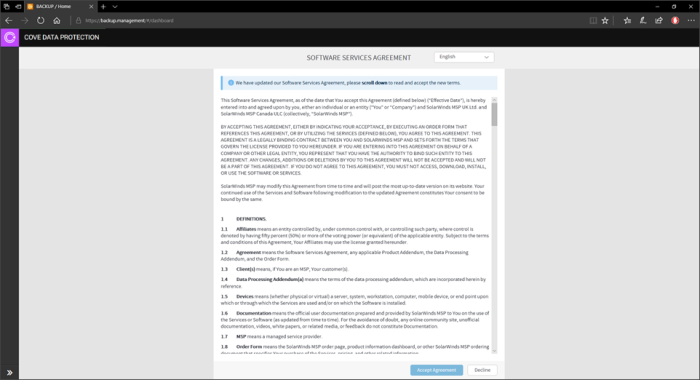 If the customer wishes to proceed and accept the agreement, they must click Accept Agreement, fill in their details and tick I have the authority to accept this agreement on behalf of my organization 'Organization Name' and click Confirm.

Once this has been done, the customer will be taken to the Management Console's dashboard to add devices, users or customers of their own.
If the customer does not agree to the terms of use, they should click Decline, fill in the relevant details and click Confirm.

The customer must accept the EULA to continue using the Backup software.