Microsoft 365 Permissions Update
Due to our change of name from SolarWinds to N-able, we require an update to all of Microsoft 365 device permissions.
Permissions must be granted one device at a time and cannot be done in bulk or automated.
Instructions
When logging in to Management Console you will be prompted to update your Microsoft 365 backup devices with the following dialog box: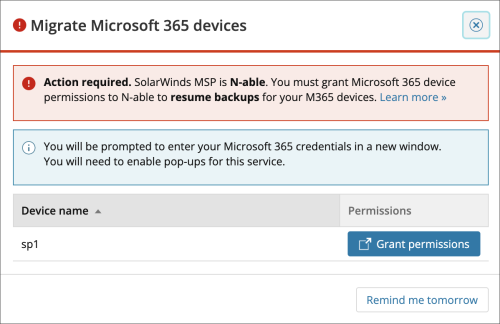 This dialog will provide a list of devices that need permissions granted.
Before clicking Grant Permissions for any device, ensure pop-ups are enabled for this service as Microsoft login will open in a new window.
To update the permissions for each device:
Click Grant permissions next to the device name
Log in to Microsoft 365 using the Global Administrator account details
Accept the new requested permissions

Tick Consent on behalf of your organisation if you wish to allow this app access to the specified resources for all users in your organisation. No one else will be prompted to review these permissions.
If you have closed out of the pop-up, you can update devices by going through the connection steps of the Restore Microsoft 365 Data wizard for any 365 service.
Backups will cease on December 1st 2021 for any Microsoft 365 devices that have not yet been migrated to use N-able permissions by following the above steps.