New VHD Mount to Hyper-V Host
| | |
| --- | --- |
| Quick Description | This Automation Policy creates a new VHD file and mounts the VHD to a Hyper-V 2012 host. |
| Applies To | N-central 9.0.x |
| Last Revised | August 20, 2013 |
Overview
Creates a new VHD file and mounts the VHD to a Hyper-V 2012 host.
VHD file attributes
Type = Fixed
Block Size = 2097152
Logical Sector Size = 512
Physical Sector Size = 4096.
Input parameters
Path to VHD file to be mounted: <string value> C:\Users\Public\Documents\Hyper-V\Virtual Hard Disk\NEW_VHD_NAME.vhdx
VHD Size (GB): <string value> 25gb
Automation policy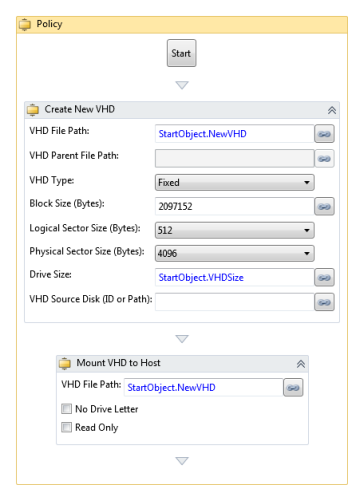 Outcome
A new VHD file is created and mounted on the server using the defined path.
Troubleshooting
There is no troubleshooting available.