Security Manager architecture
The diagram below illustrates the Security Manager architecture. Consider these components in the context of your architecture when you plan your deployment and assess your antivirus needs.
The components are described in the table below. For detailed information on N-able N-central security as a whole, see the N-able N-central Security White Paper by clicking Security White Paper on the Getting Started page.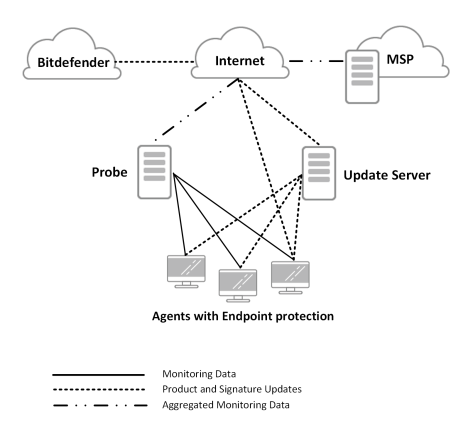 Description of components
Component
Description

N-able N-central

Server
The central monitoring solution where all monitored data is aggregated and processed.

N-able N-central

Probe
The probe is used to cache the AV Defender installer which is then passed to the agent for installation.

N-able N-central

Agent
The agent is used to monitor the Endpoint Client.
Endpoint Client
The AV Defender software. Provides robust virus protection, including signature-based detection and behavioral analysis for protection against zero-day threats.
Update Server

AV Defender software installed on the probe server. This server caches product and signature updates for distribution to endpoints on your local area network. While not mandatory, using an update server will reduce demand on network resources.

When installing Security Manager on devices, you have the option to select the Best Available update server. This may be the first server to respond. When you have multiple update servers, the server that answers first may not be the closest on the network. It is possible to see traffic cross from other sites to devices. Assigning update servers per-site is the only way around this other than blocking server access through firewall policies.

AV Defender

For AV Defender itself. Off-premise queries are done to the nearest Bitdefender Cloud Servers available to you. Currently our server farm is spread in Japan, South Korea, Germany, US East Coast, US West Coast and Romania. Only in extreme and rare situations, where the regional server is not answering, another nearest server is used until the communication with the closest one is reestablished.

Ensure that you are running a supported operating system.